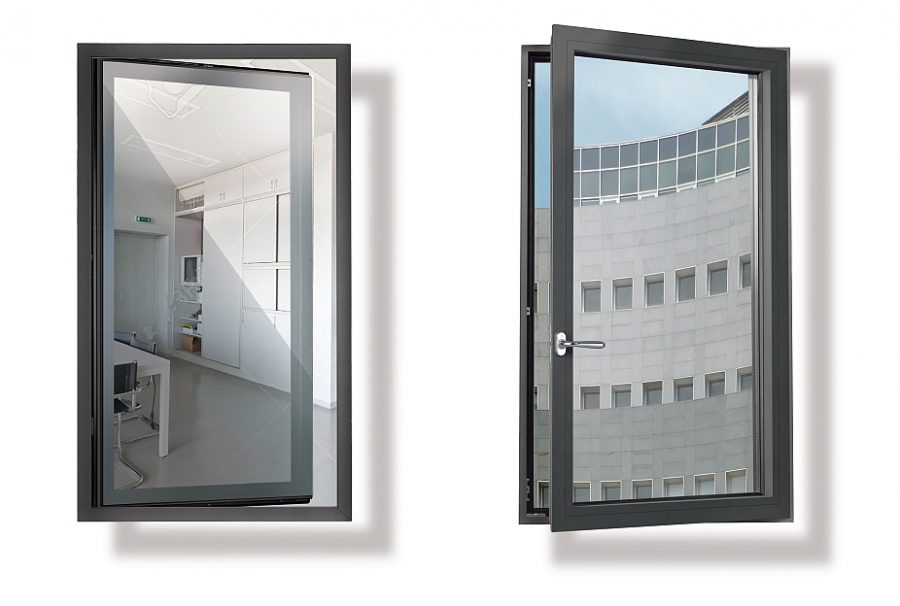 Gruppo Profilati has enriched the EKU Perfektion line with a solution that provides projects with innovative solutions that enhance space and light. The all-glass external lining of EKU Perfektion Strutturale almost entirely hides the view of the frame, resulting in a highly linear and beautiful aesthetic effect.
Spectacular, luminous but at the same highly performing, the thermal break doors and windows of the EKU Perfektion Strutturale line boast exceptional thermal and sound insulation, safety and functionality qualities. The large double glazing surface and the use of highly insulating materials provide a thermal transmittance Uw of 1.36 W/m2K (based on a one-pane window, mm 900×1400 H, Ug=0.6 W/m2K, warm edge), in line with the most restrictive values set down by standards regarding energy saving in building construction.
The concealed tilt-and-turn system can bear loads of up to 100 Kg, implementable up to 130 Kg, and allows to install any kind of single- or double-glazing shatterproof pane. Using supplementary kits, the system can achieve a burglar-resistance class of up to RC3.
With its vast assortment of openings, colours and finishes, including the steel effect, the EKU Perfektion Strutturale system offers ideal solutions for the most complex project and architectural requirements, allowing for the creation of large windows.
Strong points of EKU Perfektion Strutturale:
external all-glass appearance, great light transmittance;
high-performance thermal and sound insulation;
slim structure, easy to install;
uncluttered vision towards the outside;
innovative patented accessories;
high resistance, minimum maintenance;
vast assortment of colours and finishes.
---